I enjoy creating simple yet engaging imagery that allows me to have fun with colour, shape, layout and typography.
Freebie: The London Design Works 35 piece icon set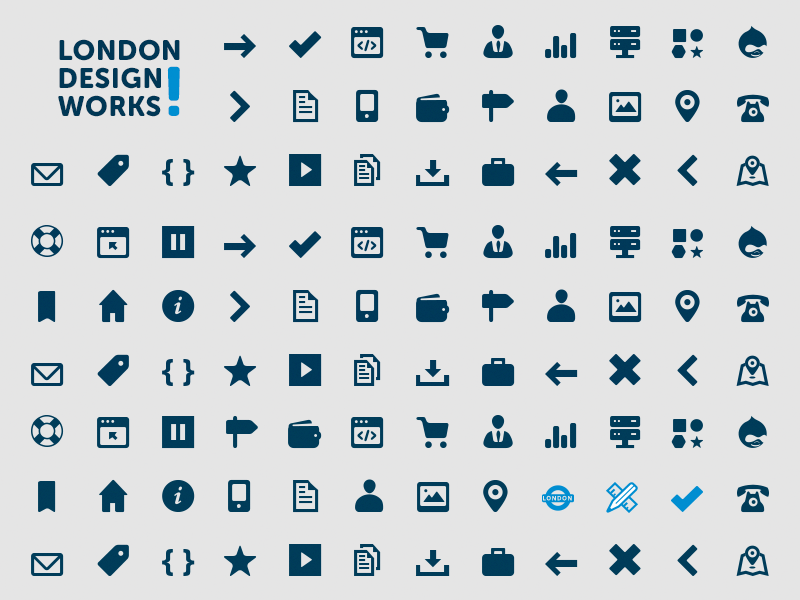 Today we are pleased to feature a set of 35 useful and beautiful web site icons. The 35 web icon pack includes 35 icons available in PNGs (16×16px, 32×32px, 64×64px), as well as in AI, EPS and as an icon font. Perfect for your next creative project. Enjoy!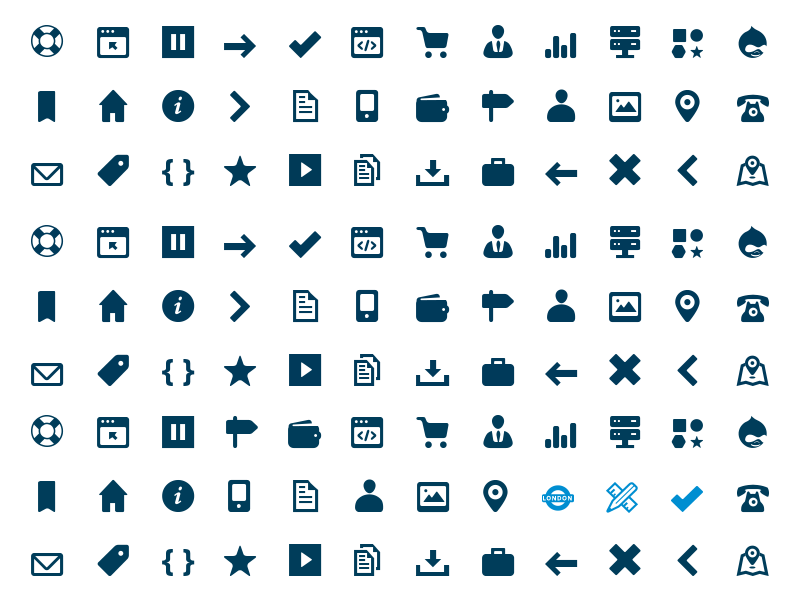 The journey
Back in August the decision had been made to re-design the current London Design Works site from the ground up. The goal was to create a visually pleasing site that showcased the companies abilities and if your reading this we hope you think so too. Originally we only needed a handful of the icons your able to get for free today but as the content was pieced together a greater need for more arose. As time goes by our site will evolve and it's likely the icon set will grow and we will make sure to keep this post updated with the latest set.
Sometimes you can't just dive in!
We needed a plan, time wasn't on our side and the icons needed to be cost effective to our studio time. Like so many making a living, big or small, we had to set a budget for ourselves and ours was studio time available to us outside of client work hours.
Firstly they needed to be quick and simple to make, each one taking no more time than the last. We decided time could be saved if we reduced the colours used on each icon and settled on using just one. Now the more observant of you will be shouting "You used grey on your icons and thats not even a colour but a shade!", and yes you would be right but at the time we had versions on bright blue icons dotted about the site. In the end it still came down to stripping the icons back to there basic form and it worked well for us taking this approach.
The next step was deciding how to serve these icons to our web users. Generally you have two options, the first and favoured is to export the icons into a sprite sheet. This requires hitting the user with one big HTTP request and then all the hard work is done. Fewer HTTP requests equals faster page loads but it makes looking after that file and updating it a pain in the neck. Option two and the solution we went with was to use an icon font service like http://icomoon.io/ to turn our hand made creations into a font. This for us had clear advantages, we could apply css styles like colour changes, adjust their size and keep everything clean and crisp across all browser operating systems. Starting with a base size of a 16x16px icon you could output the standard 32px, 64px, 128px, 256px and 512px icon sizes with ease.
When you enjoy what you do you give what you can
I'm lucky i enjoy what i do and work with a great team who support each other. We couldn't keep these icons to ourselves so decided to offer them to you all. We hope you find them useful and look forward to you sharing with us how you used them. Stay tuned because we have loads more things in store for you!